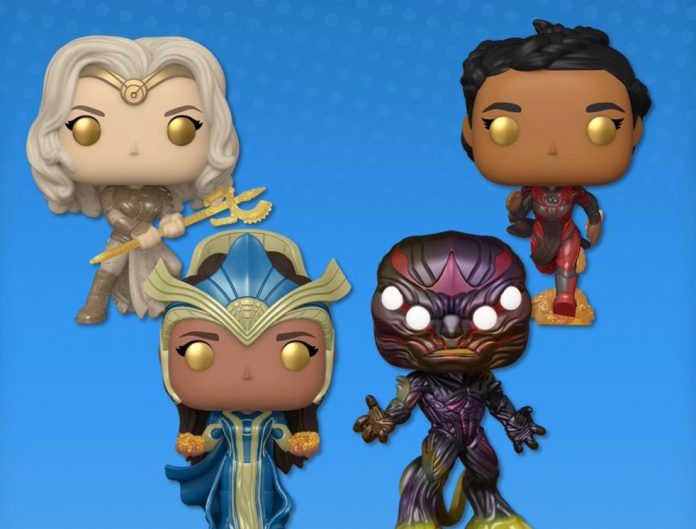 Like clockwork less than a day after debuting the trailer for Eternals, merchandise for the upcoming Marvel Studios film has been revealed most notably Funko Eternals figures.
Coming Soon: Pop! Marvel: Marvel Studios' Eternals. Pre-order today! #Funko #FunkoPop #Marvel #Eternals @TheEternals @EntEarth: https://t.co/QPPrFpbVUs @Walmart: https://t.co/CImgqEIB5T pic.twitter.com/ozbRTHwfh2

— Funko (@OriginalFunko) August 20, 2021
The film sports quite an ensemble of characters including Ikaris (Richard Madden), Thena (Angelina Jolie), Ajak (Salma Hayek), Sersi (Gemma Chan), Kingo (Kumail Nanjiani), Phastos (Brian Tyree Henry), Makkari (Lauren Ridloff), Druig (Barry Keoghan), Sprite (Lia McHugh) and Gilgamesh (Don Lee).
Need a cliffnotes version of Eternals? You're in luck, because Marvel has you covered
7,000 years in the making, the first Funkos and LEGOS for Marvel Studios' Eternals have arrived! Featuring every single Eternal — Kingo, Makkari, Gilgamesh, Thena, Ikaris, Ajak, Sersi, Sprite, Phastos, and Druig — not only does each one receive their very own Funko Pop (and even some figures with limited edition chases!), but you can also find the whole family in the "Rise of the Domo" upcoming LEGO set.

As for the Funkos, every single Eternal (and their powers!) is featured throughout the upcoming rollout — oh, and don't forget Dane Whitman, too. If you're on the hunt for Chase figures, find that with a glow-in-the-dark Gilgamesh. But, there's also streetwear Sersi and Ikaris, along with Sprite mid-phase, Phastos with an invention, and Thena brandishing dueling swords.
In addition, courtesy of Yahoo, we also have look at some Eternals LEGO sets as well as Hasbro Marvel Legends Eternals action figures. Expect to see more tie-in products and toys to be revealed the closer we get to the film's release this November.
Check out the images for the Funko Eternals figures below.
Related