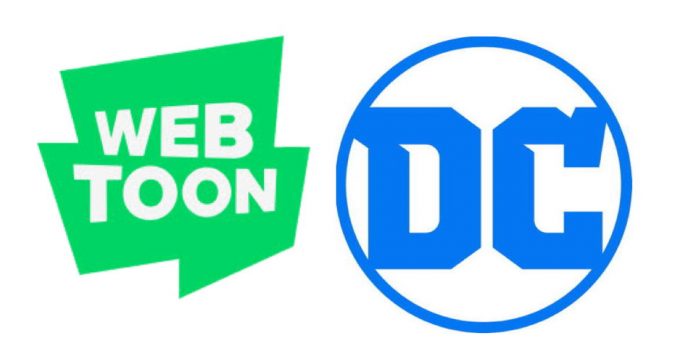 It has happened. DC and Webtoon today announced a partnership that will see the companies collaborate on several upcoming webcomic series set in the DC Universe.
No creative teams were announced, although quite sensibly, it sounds like the DC characters will be adapted by Webtoon creators, and it won't be established DC creators trying to work in a "how do you do, fellow kids?" manner. The format for scrolling mobile comics is quite different than traditional comics pages.
The news will not come as a surprise to anyone who noticed how many times DC's GM Daniel Cherry III used the word "mobile" in his first ever interview about DC. 
Nor will it come as a surprise to anyone who is paying any attention to actual readership patterns among actual comics readers.
Finally, it won't come as a surprise to anyone who has heard me saying for years that DC (and Marvel) should do this. (And DC seems to have been flirting with rival webtoon platform Kakao for a while.)
According to the release, the stories will "appeal to all fans, without the need to know or read any previous stories. Additional details – including information about local language translations – will be supplied in the coming weeks."
As the comics periodical struggles to be a storytelling medium (but not as valued collectible) finding new readers on mobile platforms is a logical extension of the DC brand. DC's enduring characters are easily flexible enough to move to this platform – and a new but familiar kind of storytelling – to become relevant to a whole new generation of readers.
And props to Cherry for being the first person to run DC in a long time who had the vision to see that a move to an unfamiliar but popular platform was a good thing.
"I'm so happy WEBTOON is able to work with DC on bringing unique stories to our platform," said WEBTOON CEO, Ken Kim. "WEBTOON is a great bridge to a huge worldwide audience of young comic fans, and DC is home to some of the greatest Super Hero stories on the planet. The potential to express famous IP through our platform, which is mobile native and focused on ease of access – is super exciting."
"DC is excited to introduce our iconic characters to a new generation of fans worldwide," said DC General Manager, Daniel Cherry III. "We've been working closely with the WEBTOON writers and artists to adapt our characters and stories to WEBTOON's mobile format. Our shared goal is to create fun and compelling DC stories that all readers will enjoy. This partnership is yet another example of DC's ambition to "meet fans where ever they are" and continue sharing DC fandom. "
"This collaboration is a landmark for us as we work toward a new age of digital comics in the US," said David Lee, head of content at WEBTOON Entertainment. "We're so happy to introduce long-beloved DC characters to our service – and we're looking forward to sharing more details soon."
According to Webtoon pr, with an average of 72+ million monthly active users, more people consume WEBTOON series than watch most television shows. The app is the #1 app among 16-24 year olds in Korea and also is in the top tier among the same group in the other countries. Previous partnerships with US publishers involve Legendary, POW!, Top Cow/Image, and Archie Comics announced a partnership with Webtoon last year at virtual NYCC.
I can only imagine the hubbub among comics retailers at the moment, but current comics readers are going to stick with the physical, traditional versions of these characters. And you might just get some new readers when all is said and done.
Which is the whole point.
Related