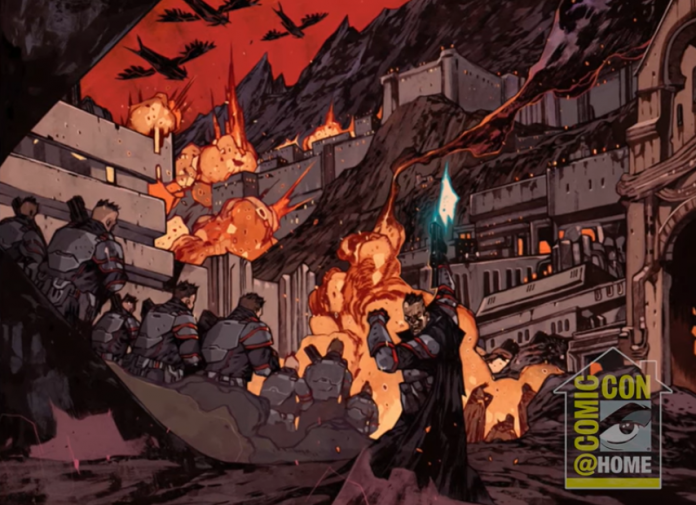 Having written over 3 million words together, authors Brian Herbert and Kevin J. Anderson are set on expanding the Dune universe even further. The duo, along with the franchise's publishing arm, announced at last year's Dune panel at [email protected] multiple additions to the series as we know it: redesigned covers of the original Frank Herbert books, a brand new graphic novel, various spin-off comics based on infamous characters from the series, and collector's edition hardcover novels. This year, we got a sneak peak into upcoming comics and side projects that BOOM! Studios and Tor Books have already pinned release dates to.
Dune: The Caladan Trilogy, published by Tor Books


Herbert and Anderson began working on this trilogy last October. Dune: The Duke of Caladan (available for purchase online and in-store) is the first book in a prequel trilogy, followed by The Lady of Caladan, and The Heir of Caladan. A takeaway from this reveal: The Heir of Caladan will be an environmental novel with over 70 chapters that is yet to be written, according to Anderson. And another book titled Sands of Dune is set to be finished by 'sometime next year'.
The Lady of Caladan will be published in September 2021 but you will have to wait until October 2022 to read The Heir of Caladan. Anderson confessed the final book hasn't been written yet but the chapters are in order.
Dune: The Graphic Novel, Book 1, published by Abrams ComicArts

Charlotte Greenbaum from Abrams ComicArts returned with another big announcement this year. Dune: The Graphic Novel, Book 1 not only became a huge fan favorite last year but also ranked #3 in Book Authority's best graphic novels of 2021. Following such fanfare, Abrams ComicArts decided to launch another edition of the novel, a sized up deluxe version with gold foil and other exciting details that Greenbaum wasn't allowed to reveal just yet. The second volume will be published in July 2022 with returning illustrators from Spain, Raúl Allén, and Patricia Martín, and contributor Bill Sienkiewicz.
Dune: House Atreides, published by BOOM! Studios
BOOM! Studios is wrapping up issue #8 in the Dune: House Atreides comics and the next issue will onset a new story arc.
Editor Jonathan Manning revealed two brand new Dune series titled Blood of the Sardukar and Whisper of Caladan. These comics are short stories with about 40 pages of self-contained stories that will serve the larger Dune universe. The first issue of Blood of the Sardukar is out this week, while Whisper of Caladan arrives in December.
Miss any of The Beat's earlier [email protected] coverage? Find it all here!
Related