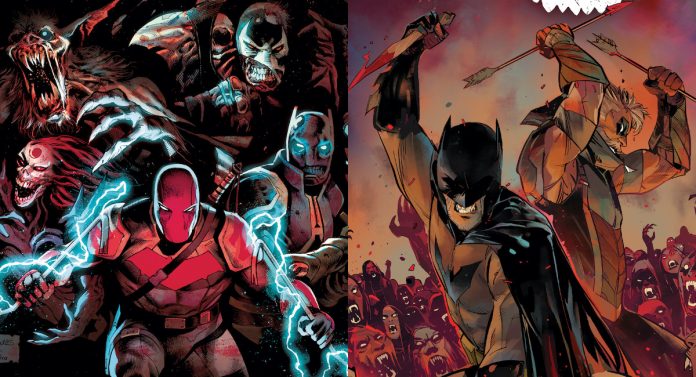 As Halloween approaches, DC is bringing out the undead monsters to celebrate the occasion. The publisher has announced a pair of titles today, both written by Matthew Rosenberg. Included are the zombie-themed Task Force Z ongoing series, and the bloodsucking twelve-issue maxiseries DC Vs. Vampires.
Task Force Z is written by Rosenberg with pencils by Eddy Barrows, inks by Eber Ferreira, and colors by Adriano Lucas. No letterer was yet named for this title. Here's how DC describes the in-continuity series:
On A-Day, hundreds of Gotham City's most dangerous and deranged criminals were left dead after an attack on Arkham Asylum and now, they're getting a second chance at life. A mysterious benefactor is bringing together a new Task Force and has recruited the only person who could lead them, someone who knows what it's like to come back from a brutal death: Red Hood. Now Jason Todd has to unravel the mystery surrounding this team of the recently deceased while leading a line-up of some of Gotham City's worst criminals who've ever lived: Bane. Man-Bat. The Arkham Knight. Sundowner. Mr. Bloom.
I'd been wondering how DC was planning to bring back Bane, among others who died in the A-Day event, and "why not zombies" is always an acceptable answer in my mind. Barrows, Ferreira, and Lucas have been working on the ongoing Batman: Urban Legends anthology, illustrating the Batman & Red Hood serial that's headlined the series, so they're no strangers to the adventures of Jason Todd.
Task Force Z will come with an array of open-to-order and incentive variant covers by artists including Tyler Kirkham, Dan Mora, and Kyle Hotz.
Meanwhile, the other series, DC Vs. Vampires, has a fairly self-explanatory title. Written by Rosenberg and James Tynion IV, the series features art and colors by Otto Schmidt. Again, no letterer was named for this title. Here's DC's description for that series:
In the tradition of DCEASED comes a new, terrifying story from the minds of James Tynion IV, Matthew Rosenberg, and Otto Schmidt (Future State: Catwoman). DC VS. VAMPIRES is a special, standalone twelve-issue maxiseries, that will pit the Justice League against a secret army of vampires, leaving our heroes unsure of who they can trust.
For all the horror comics that James Tynion IV has worked on, DC Vs. Vampires will be both he and co-writer Rosenberg's first time tackling vampires. The series, first teased by DC during a presentations to retailers earlier this year, marks the highest profile DC work for Otto Schmidt yet; the artist has previously illustrated a short run on Green Arrow, along with assorted annuals and anthology stories.
Task Force Z and DC Vs. Vampires are the latest DC projects for Matthew Rosenberg. The writer has been writing the Grifter serial that started in Future State: Dark Detective and continued in Batman: Urban Legends. Rosenberg is also writing the currently-running The Joker: A Puzzlebox digital-first limited series.
Look for both Task Force Z #1 and DC Vs. Vampires #1 (of 12) to arrive in stores on Tuesday, October 26th.
Related