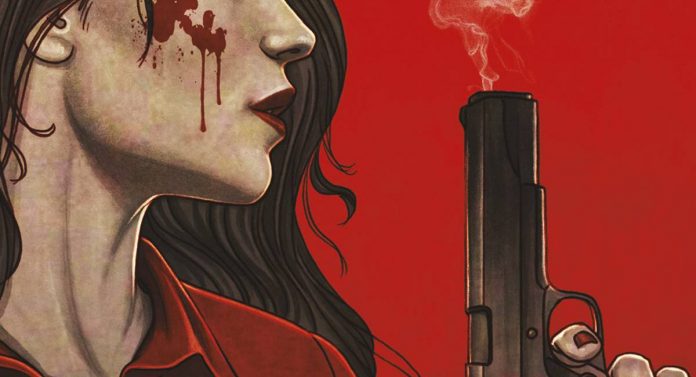 Earlier this year Dark Horse Comics announced that they will be bringing Mafiosa, an original graphic novel set in the world of 1920s organized crime, to readers later this year. The OGN is the creation of writer Sunshine Barbito, artists Alessia Alfano and Débora Carita, color artists Ronda Pattison and Mariacristina Federica, letterer Clem Robbins, and cover artist Jenny Frison. Today The Beat can unveil an exclusive three-page preview of the upcoming graphic novel.
Here's how Dark Horse describes Mafiosa:
At the height of the roaring twenties, the daughter of a mafia boss is determined to rise to prominence in her family's business.

Nicoletta has aspirations to join her brothers in the family business – an organized crime syndicate running the streets of Brooklyn. Though her father objects and a crisis ensues, Nicoletta takes it upon herself to prove she has what it takes, moving steadfastly into a world of brutality. New York has a new player in town, and they ain't seen nothing yet!

Combining the romanticism of the roaring twenties and Nicoletta's journey into the brazen violence of mafia-dominated New York, Mafiosa sets the status quo ablaze – with style, class, and a smoking barrel.
Mafiosa was initially developed by Portland-based Rainwerks Studios. A 28-page story featuring the characters of the book was produced following a successful Kickstarter in 2019. It's the first graphic novel from writer Sunshine Barbito, whose previous credits include translation assistance for another book released by Dark Horse, Jessica Bab Bonde and Peter Bergting's We'll Soon Be Home Again. It's the latest project for Débora Carita, who has previously done work for IDW and Dynamite, and for Mariacristina Federico, who has worked for Titan, Dynamite, and Upper Deck, among others.
Check out the exclusive three-page preview of the book below. the 128-page Mafiosa graphic novel arrives in comic stores on Wednesday, October 20th, and everywhere on Tuesday, November 2nd. Preorders from your local comic shop are open until next Monday, July 12th.
Related