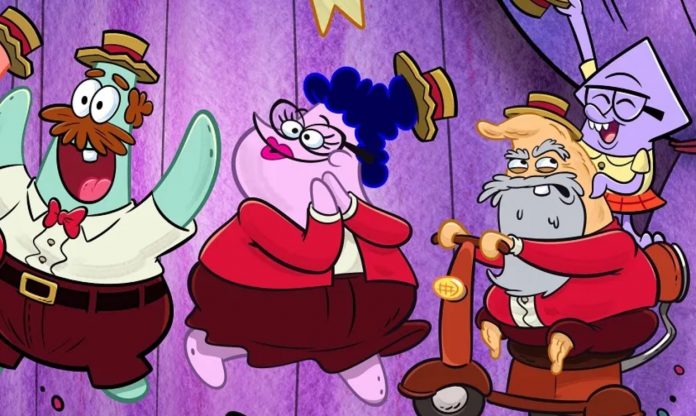 As the SpongeBob SquarePants producers have admitted, they don't aren't limited by previously established continuity for the sake of story and comedy. Hence the changes to the family tree of SpongeBob's best buddy Patrick Star in the aptly titled The Patrick Star Show spinoff. In their place are Cecil Star, Patrick's fun-loving, happy-go-lucky dad and Bunny Star, and his kooky mom, voiced by Tom Wilson and Cree Summer. And of course, there's also Patrick's genius grandpa fittingly named GrandPat Star voiced by Dana Snyder.
While Wilson has been providing voices for various characters in the original SpongeBob cartoon for over two decades, this spinoff marks the first time working in the SpongeBob franchise for Summer and Snyder.
The Beat had the chance to chat with the voice actors but being part of such an illustrious animated property as well as the experience of working with Tom Kenny who not only voices SpongeBob but is also the voice director on The Patrick Star Show.
The Patrick Show premieres Friday, July 9, at 7:00 p.m. (ET/PT) on Nickelodeon
The Patrick Star Show is the second spinoff of the number-one animated series SpongeBob SquarePants and follows a younger Patrick Star living at home with his family, where he hosts his own variety show for the neighborhood from his television-turned-bedroom. In the premiere episode, "Late for Breakfast," Patrick presents a show about food after missing out on a hearty breakfast. Then in "Bummer Jobs," Patrick and SpongeBob experience the wonders of the workforce.
The longtime voice of Patrick Star, Bill Fagerbakke lends his voice as the young adult Patrick alongside new cast members: Tom Wilson (SpongeBob SquarePants) as Cecil Star, Patrick's fun-loving, happy-go-lucky dad who always puts his family first; Cree Summer (Rugrats) as Bunny Star, Patrick's loving, sea star mom who is a kooky oddball; Jill Talley (SpongeBob SquarePants) as Squidina Star, Patrick's 8-year-old little sister who drinks her coffee from a sippy cup; and Dana Snyder (The Penguins of Madagascar) as GrandPat Star, Patrick's genius grandpa, and the most intelligent member of the Star family. Summer also voices Grandma Tentacles, Squidward's grandma.
Additional cast members include veteran actors Tom Kenny (SpongeBob SquarePants), Rodger Bumpass (Squidward Tentacles), Carolyn Lawrence (Sandy Cheeks), Clancy Brown (Mr. Krabs), and Mr. Lawrence (Plankton).
Marc Ceccarelli (SpongeBob SquarePants), Vincent Waller (SpongeBob SquarePants), and Jennie Monica (SpongeBob SquarePants) are co-executive producers of the series.  The Patrick Star Show is developed for television by Claudia Spinelli, SVP of Animation Development, Nickelodeon, with production overseen by Kelley Gardner, Vice President, Current Series, Animation, Nickelodeon.
Related