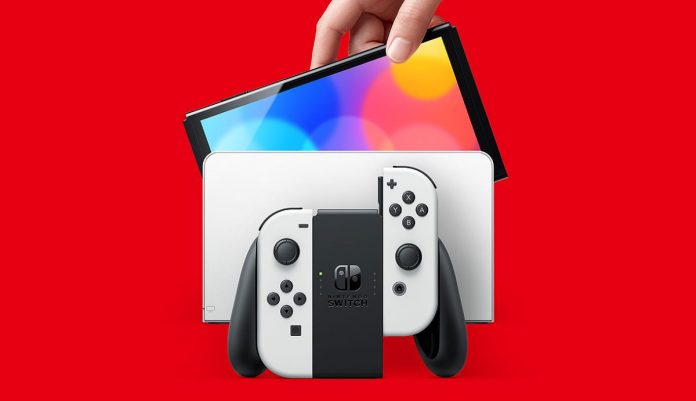 A new Nintendo Switch iteration is officially coming. Via a Twitter post on their official accounts, Nintendo announced the new edition of their hybrid games console, dubbed the Nintendo Switch (OLED model), with a trailer and a release date: October 8.
Retailing for $349.99, the new model comes with a number of quality-of-life improvements over the present model of mainline Switch – notably a 7" OLED screen, a new dock with wired LAN connection, a more versatile (and hopefully robust) kickstand, improved speakers, and 64Gb of internal storage.
Meet the newest entry to the #NintendoSwitch family! Nintendo Switch (OLED model) brings the versatility of the Nintendo Switch experience with a vibrant 7-inch OLED screen, a wide adjustable stand, and more. Nintendo Switch (OLED model) releases on 10/8.https://t.co/zRpGxakJDn pic.twitter.com/Tsc55r35ay

— Nintendo of America (@NintendoAmerica) July 6, 2021
According to their website, the Nintendo Switch OLED and regular Nintendo Switch docks can be interchangeable, though it is hard to say when or if the new dock will be sold separately at the present time. Likewise all current joycons will be compatible with the new version.
Battery life in the OLED system will be similar to the enhanced battery life of the standard Switch model of 4.5 to 9 hours depending on use. The standard Switch model is itself a revision on the launch 2017 model, which introduced a more power-efficient chipset.
While size and shape of the Switch OLED will be the same to ensure hardware peripheral compatibility, there will be a weight gain: the OLED model will come in at approximately 320g, compared to the base Switch's 297g – add in the joycons and the weight in the hands will be 420g and 398g respectively. Quite hefty, especially when you compare it to the more compact Switch Lite's meager 275g.
It looks like the present Nintendo Switch won't be phased out anytime soon, as the new OLED model and the Switch Lite will sit alongside each other as a 'family' of systems.
At a price point of $349.99, the OLED model will act as a "premium" alternative to the $299.99 base model and the portable-only $199.99 Switch Lite. This sits uncomfortably close to the price point of the new next generation of gaming hardware from Sony and Microsoft, whose budget digital-only more advanced systems are $399.99, for the PlayStation 5 Digital Edition, and $299 for the Xbox Series S.
For a number of months, rumours have abounded online about a new Switch model launching later this year, with suggestions that a more advanced 'Switch Pro' revision was in the works with a more advanced chipset and AI-assisted 4K upscaling, particularly fed by a series of reports by Bloomberg.
In March and May of this year Bloomberg had suggested, based on anonymous industry sources, that Nintendo were going to release an upgraded model to keep the now four-year-old handheld relevant in the wake of the release of the Sony PlayStation 5 and Xbox Series systems which launched in November last year.
In an article from March, Bloomberg said,
"The new Switch iteration will support Nvidia's Deep Learning Super Sampling, or DLSS, a novel rendering technology that uses artificial intelligence to deliver higher fidelity graphics more efficiently. That will allow the console, which is also set for an OLED display upgrade, to reproduce game visuals at 4K quality when plugged into a TV"
While an OLED display upgrade was correct, advanced DLSS was not in the picture for the just announced October revision. That doesn't necessarily mean it won't happen, but probably not this year. And maybe not this generation.
With expectations slamming into cold hard reality, reception online is mixed. And entertaining.
Nintendo doing the bare minimum holy shit 😱 pic.twitter.com/xKTPY73gyM

— upgamer | Son Riku (Please read pinned tweet) (@SSJRiku) July 6, 2021
— JustJake (@JustMightyJake) July 6, 2021
Wow an ETHERNET PORT?! Amazing what they can do with modern technology these days pic.twitter.com/BdOdc6xD3a

— Ed Hominim (@Sealidarity) July 6, 2021
Does the new OLED model appeal to you? Let us know in the comments.
Related