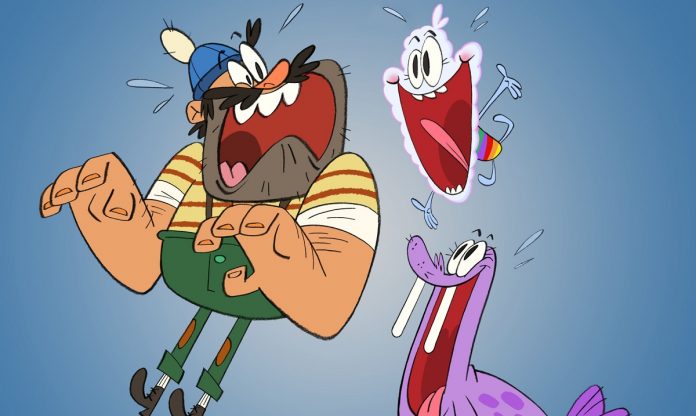 For the last few years Nickelodeon has had a stellar streak of incredibly successful original shows including The Loud House and It's Pony. The "First Kids' Network" seems poised to keep up the success with its latest wildly imaginative cartoon, Middlemost Post. Announced last year, the series follows Parker J. Cloud, an exuberant rain cloud, and brawny mailman Angus Roy Shackleton III as they deliver packages to the unusual inhabitants of Mount Middlemost accompanied by their magical walrus Russell.
It probably doesn't come as a complete surprise then that the creator of such a wacky show, John Trabbic III, previously worked on SpongeBob SquarePants. You can only imagine the challenge of producing an animated show remotely for the past year with nobody on staff ever meeting each other including the cartoon's lead voice actors Becky Robinson (Parker) and John DiMaggio (Angus).
Watch our exclusive chat with Robinson and DiMaggio about the unique experience of recording their voices at home during quarantine and how the relationship between Parker and Angus mirrored that of the performers.

Middlemost Post premieres Friday, July 9, at 7:30 p.m. (ET/PT) on Nickelodeon

Marking Nickelodeon's first original animated series in five years, Middlemost Post hails from SpongeBob SquarePants' alum John Trabbic III and follows a former rain cloud, a brawny mailman and their magical pet walrus as they deliver packages to the unusual inhabitants of Mount Middlemost. In the debut episode, "First Delivery," while delivering a letter to a house that never gets mail, the gang goes through warfare to get to its front door. Next in "Chore or Less," in an attempt to be more like Angus, Parker does the chores and realizes that they're actually boring.

The Middlemost Post voice cast includes Becky Robinson (Kipo and the Age of Wonderbeasts) as Parker J. Cloud, an exuberant, relentlessly kind, overly eager, and most of all, pliable cloud who's desire is to spread cheer; John DiMaggio (Futurama) as Angus Roy Shackelton, Parker's boss and proprietor of the Middlemost Post; Kiren (Raising Hope) as Lily, Parker's best friend and master inventor;  Colton Dunn (Superstore) as Mayor Peeve, the petty Mayor of the city of Somewhere locked in a petty, one-sided feud with Angus; and Johnny Pemberton (In the Loop) as Ryan, Mayor Peeve's loyal assistant.

Middlemost Post is created and co-executive produced by John Trabbic III. Dave Johnson serves as co-executive producer and story editor for Middlemost Post, with production overseen by Kelley Gardner, Vice President, Current Series, Animation, Nickelodeon.
Related