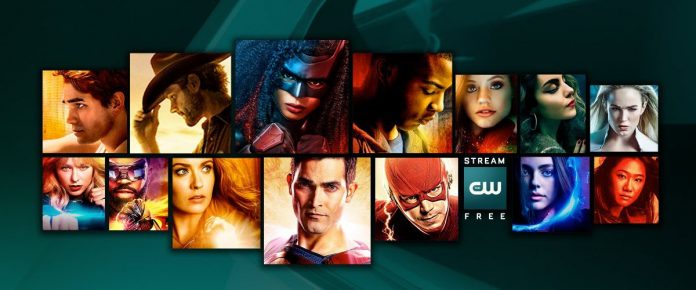 TV is still in the process of recovering from shortened seasons and lengthened hiatuses as a result of the COVID-19 pandemic, but some news today indicates that things are getting even closer to normal. The CW announced their full schedule of premiere dates for their fall lineup of new and returning shows. The schedule includes three of the four returning Arrowverse series, Riverdale, and more.
Of note to The Beat readers is the move of both DC's Legends of Tomorrow and Batwoman to a new night. The pair of shows will share Wednesdays beginning on October 13th, with Legends premiering at 8PM and Batwoman following at 9PM. The Flash will be joined by Riverdale on Tuesday nights beginning on November 16th. New seasons of Superman & Lois and Stargirl, as well as the premiere of new DC series Naomi, are being held for midseason.
The news comes while current seasons of The Flash, Batwoman, Legends of Tomorrow, and Superman & Lois are all still in-progress on The CW. Riverdale is currently on hiatus, with the final nine episodes of its season to return on August 11th, while Supergirl is also on a break during its final season, with its final thirteen-episode stretch to debut on August 24th, alongside the second season of Stargirl.
Check out The CW's full fall premiere schedule below.
FRIDAY, OCTOBER 1
8 pm Penn & Teller: Fool Us (Season 8 premiere)

SATURDAY, OCTOBER 2
8 pm iHeartRadio Music Festival, Night 1

SUNDAY, OCTOBER 3
8 pm iHeartRadio Music Festival, Night 2

FRIDAY, OCTOBER 8
9 pm Nancy Drew (Season 3 premiere)

SATURDAY, OCTOBER 9
8 pm Whose Line Is It Anyway? (Season premiere, 2 episodes)
9 pm World's Funniest Animals (Season premiere, 2 episodes)

SUNDAY, OCTOBER 10
8 pm Legends of the Hidden Temple (Series premiere)
9 pm Killer Camp (Series premiere; U.S. version)

WEDNESDAY, OCTOBER 13
8 pm DC's Legends of Tomorrow (Season 7 premiere)
9 pm Batwoman (Season 3 premiere)

THURSDAY, OCTOBER 14
9 pm Legacies (Season 4 premiere)

THURSDAY, OCTOBER 21
8 pm Coroner Season 3 finale

MONDAY, OCTOBER 25
8 pm All American (Season 4 premiere)
9 pm 4400 (Series premiere)

THURSDAY, OCTOBER 28
8 pm Walker (Season 2 premiere)

TUESDAY, NOVEMBER 16
8 pm The Flash (Season 8 premiere)
9 pm Riverdale (Season 6 premiere)
Related