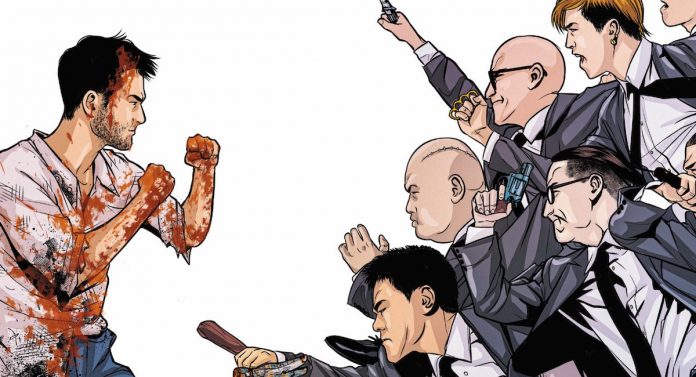 AfterShock Comics has announced Search for Hu, a new crime series debuting in September. The series, presumably a miniseries, is co-written by Jon Tsuei and Steve Orlando, illustrated by Rubine, colored by DC Alonso, and lettered by Carlos M. Mangual. The first issue of the series will feature cover by Rubine and Dave Johnson.
Here's how AfterShock describes Search for Hu:
Aaron Tse lives for his family, and if he's not careful, he'll die for its secrets.

When he left the military, Aaron Tse's first thought was providing for his aging parents. His parents' bar is experiencing hard times, and one night it's shot to hell, with his parents critically injured in the attack.

But this was no ordinary robbery — Aaron's mother reveals that she fled China to escape a blood feud between the Jewish and Chinese sides of her family…both of which are powerful organized crime families. Peace existed between these two families — the Hu and the Margolis — but now it's been broken, and Aaron must protect his parents from further violence. Aaron hops a plane to the homeland he never intended to explore, on a path to revenge he never wanted to walk.
Search for Hu is the first collaboration between Orlando and Tsuei, and the first AfterShock project for Tsuei, whose previous credits include Sera & The Royal Stars and RunLoveKill. It's the latest AfterShock title from Orlando, who is currently writing Project: Patron as well as the upcoming Rainbow Bridge YA graphic novel from the new Seismic Press imprint. The series is also the first AfterShock work for Rubine, who has previously worked on titles for BOOM! Studios and Titan Comics.
In a statement announcing the series, Tsuei and Orlando describe the series as a "cross-cultural action thriller," inspired by a shared love of the work of John Woo, Beat Takeshi, and Johnnie To. Tsuei also described the benefit of collaborating with Orlando:
What you're getting with SEARCH FOR HU is two very different people coming together to write a story about themes that mean a lot to both of us. I think that's the beauty of collaboration. Together we're writing a story that simply wouldn't exist in its current form without the both of us involved.
Check out some unlettered preview pages from the first issue below. Search for Hu #1 arrives in stores on September 8th, 2021.
Related