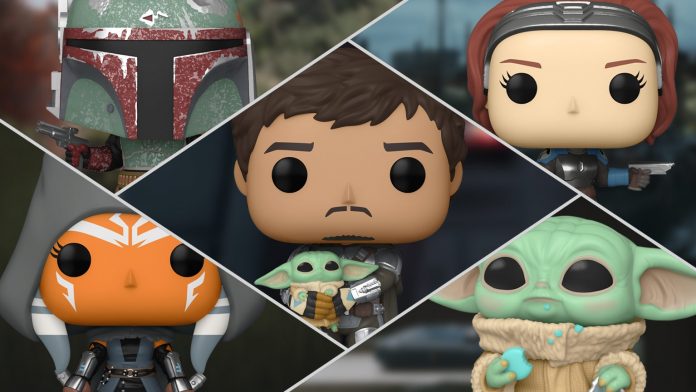 It's been almost half a year since the epic finale of The Mandalorian Season 2. It'll be awhile until the much anticipated for much anticipated spin-off The Book of Boba Fett and even longer until Mandalorian Season 3. Luckily Funko is once again here to help satiate your fandom. Today via a StarWars.com exclusive, a new wave of Star Wars Funko Pop! bobbleheads were revealed most notable the tear-jerking final scene of Chapter 16 "The Rescue" of Din Djarin (Pedro Pascal) revealing his face to Baby Yoda Grogu.
Unsurprisingly, the breakout star of The Mandalorian is getting more figures that feature classic scenes from Season including the squid chowder attached to the little Jedi and of course Grogu mid-snack with a roll of blue space cookies. I'm personally hoping for a figure of Grogu with vomit on his clothes after that bumpy ride.
Other figures include Ahsoka Tano (as portrayed by Rosario Dawson in the live-action series) with one figure featuring her hood pulled over her montrals and another striking the pose of a warrior who's ready for battle. Another fan-favorite character who made the jump from animation to live-action in Season 2 of The Mandalorian (played by Katee Sackhoff in both iterations) is Bo-Katan. She's getting two figures with and without her helmet.The fierce Dark Troopers are also getting their own figures.
Last but certainly not least, there's the merciless bounty hunter Boba Fett, his armor bleached and scuffed by the natural conditions on Tatooine.
A bit surprised no Luke Skywalker among the new wave but knowing Funko I have a feeling there's even more figures from Mandalorian Season 2 that fans and collectors and look forward to in the near future.
In addition, a new Funko Pop! animation short featuring the Mandalorian and Grogu was also released. Check out the Mandalorian figures and the animated short below!
Related