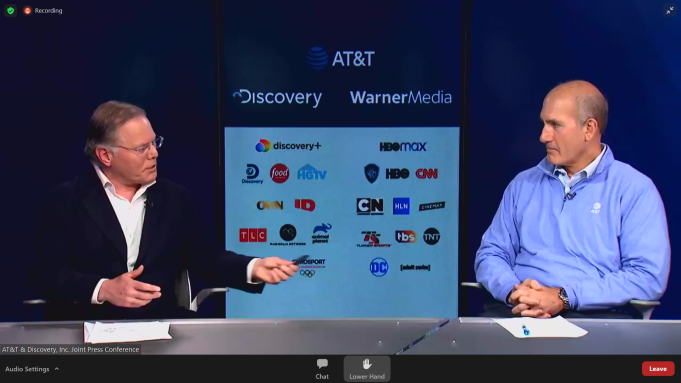 We've been saying all along that the endgame of AT&T's uncomfortable acquisition of Warner Media would inevitably end with them selling off the studio.
But the denouement came much faster than we expected!
As revealed over the weekend and confirmed this morning, AT&T will "merge" with Discovery+, putting Discovery's David Zaslov in charge of all things Warner Media. The deal was a tricky stock merger that saw AT&T getting $43 billion to help pare down their immense debt.
And they highlighted: "The new company will be able to invest in more original content for its streaming services, enhance the programming options across its global linear pay TV and broadcast channels, and offer more innovative video experiences and consumer choices."

Under the terms of the deal, WarnerMedia and Discovery will merge through a complex all-stock transaction called a Reverse Morris Trust that would see AT&T receive $43 billion in cash, debt securities, and WarnerMedia's retention of certain debt, and AT&T's shareholders would receive stock representing 71 percent of the new company. Wall Street observers said the Reverse Morris Trust had the handwriting of big Discovery shareholder and media mogul John Malone who has a reputation for complex, tax-efficient deals.

Discovery CEO David Zaslav will lead the merged company as CEO, and there is no word about a role for WarnerMedia CEO Jason Kilar. The companies say the deal will close in 2022, subject to shareholder and regulatory approvals.
Discovery+ is a streaming service made up of channels including HGTV, Food Network, TLC and Discovery Channel. They specialize in reality tv with such shows as My 600 Lb Fiance, Ghost Adventures, House Hunters, and, of course, Honey Boo Boo
Seems like a great fit for quality TV inventor HBO, right?
According to the LA Times, Zaslov had this to say:
"During my many conversations with John, we always come back to the same simple and powerful strategic principle: these assets are better and more valuable together. It is super exciting to combine such historic brands, world class journalism and iconic franchises under one roof and unlock so much value and opportunity," Added Zaslav. "With a library of cherished IP, dynamite management teams and global expertise in every market in the world, we believe everyone wins…consumers with more diverse choices, talent and storytellers with more resources and compelling pathways to larger audiences, and shareholders with a globally scaled growth company committed to a strong balance sheet that is better positioned to compete with the world's largest streamers."

Indeed, the merger partners said: "The 'pure-play' content company will own one of the deepest libraries in the world with nearly 200,000 hours of iconic programming and will bring together over 100 of the most cherished, popular and trusted brands in the world under one global portfolio, including: HBO, Warner Bros., Discovery, DC Comics, CNN, Cartoon Network, HGTV, Food Network, the Turner Networks, TNT, TBS, Eurosport, Magnolia, TLC, Animal Planet, ID and many more."
For analysis, as always I recommend Kim Masters, who digs into some of the personalties involved, including Discovery's owner, legendary dealmaker and ultra-billionaire John Malone.
Malone has not hidden his questions about the AT&T/WarnerMedia streaming adventure. In 2018, he said this to CNBC's David Faber: "I don't know if AT&T is willing to write those massive checks, to play against the incumbents, Amazon, Netflix, and to compete with Disney on the margin for that third seat. If I was [then AT&T chairman Randall Stephenson] I would be scratching my head and saying, 'When I bought HBO it was the crown jewel, it was what I wanted; now it is subscale. The question now is how much do I have to spend and how much income do I have to forego for the next couple of years to build up?'" It appears that current AT&T boss John Stankey came to scratch his head about that, too. Malone is known to be a media-world genius but was it really that hard to anticipate that AT&T might have difficulty figuring out how to run a legacy media operation, especially when it is fighting battles on other fronts? AT&T is a telecommunications company and now appears to be one in the long list of outsiders to find that entertainment is hard, especially in pandemic-accelerated transformational times.
While AT&T unloading Warners won't come as a surprise to anyone, the identity of the suitor was a bit unexpected: most had thought that NBC/Universal would be a better partner. However it seems that two rich old white guys chatting it up came up with a better deal:
Discovery CEO David Zaslav says the orchestrating the merger "secretly from my brownstone in Greenwich" over the past few months has been a hoot, basically, with Stankey and the team. pic.twitter.com/ciky4fzwVT

— julia alexander (@loudmouthjulia) May 17, 2021
We'll have some more analysis as this unfolds, but your number one question is "How will this affect DC Comics?" That is developing, but in the short run, the new Discovery folks surely know the DC characters are the crown jewels of the IP library and may even be a bit more comfortable with the nerd world than AT&T's tehcnocratic bean counters. Maybe they'll even stop dismantling DC Comics proper!
That said, to the untrained eye, Discovery+ doesn't seem to have much experience developing fiction, unless you consider Zak Baggans' hair a myth. There may be some learning curves involved.
But still, they couldn't do a much worse job than AT&T did, from botching the roll out of HBO Max to selling off Crunchyroll to pissing off all the talent in Hollywood with a tone deaf announcement of day and date streaming releases for all their top movies.
AT&T's time running a studio was even worse than Sony's and that's saying a lot.
Related