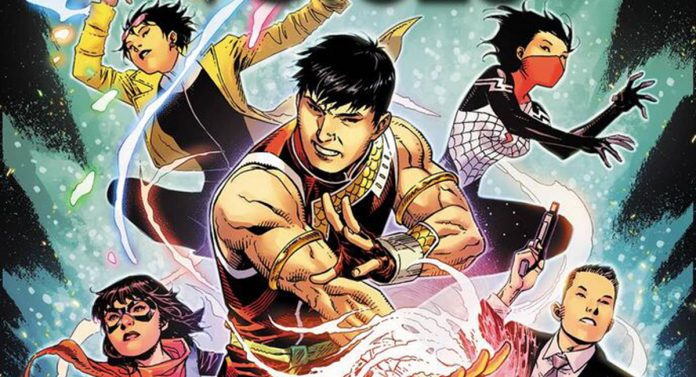 This month is Asian Pacific American Heritage Month, and just this past week DC Comics released the Festival of Heroes one-shot featuring stories by creators and starring characters from the AAPI community. Not to be outdone, Marvel Comics has now announced their own one-shot, to be released in August, with a similar conceit. Marvel's Voices: Identity #1 will tell stories of the many Asian super-heroes from across the Marvel Universe, and feature work by creators with Asian and Pacific backgrounds.
Here's a breakdown of the characters and creative teams involved in the Marvel's Voices: Identity one-shot:
A Shang-Chi story by Gene Luen Yang and Marcus To
A Jubilee story by Christina Strain and Jason Loo
A Jimmy Woo story by Greg Pak and newcomer Creees Lee
A Silk story by Maurene Goo and another newcomer, Lynne Yoshii
A Ms. Marvel story illustrated by Mashal Ahmed (no writer named for that one)
"A bonus surprise story that will be announced at a later date"
The whole thing will come wrapped in the main cover by Jim Cheung seen above.
In a statement announcing the new one-shot, editor Darren Shan, Yang, and Strain all spoke about the importance of Asian representation in comics, particularly at Marvel:
"It's unreal to me that one of Marvel's first Asian super heroes, Jimmy Woo, was first introduced in in 1956. He predates the Fantastic Four, Spider-Man, and the X-Men," Editor Darren Shan said. "It just goes to show that Asians have been an integral part of Marvel's history, both on the page and behind it. So I'm incredibly excited to celebrate that with all these amazing creators, new and established, featuring some of Marvel's greatest (and dare I say it, best) super heroes!"

"I'm thrilled to be a part of MARVEL'S VOICES: IDENTITY #1," Yang said. "Asian and Asian American super heroes are such a vital part of the Marvel Universe. Asian and Asian American creators, too. This book proves it."

"Jubilation Lee was an important character for me growing up as an Asian American kid in the 90s, so it's an incredible feeling knowing that I've been able to directly contribute to the development of her character and history," Strain said.
The Marvel's Voices series of one-shots, which spun out of the podcast of the same name, have highlighted characters and creators from a variety of different marginalized communities. Previous issues have featured Black and Indigenous creators and characters, and a new issue is set to arrive next month in celebration of Pride.
Marvel's Voices: Identity #1 goes on sale on Wednesday, August 11th.
Related