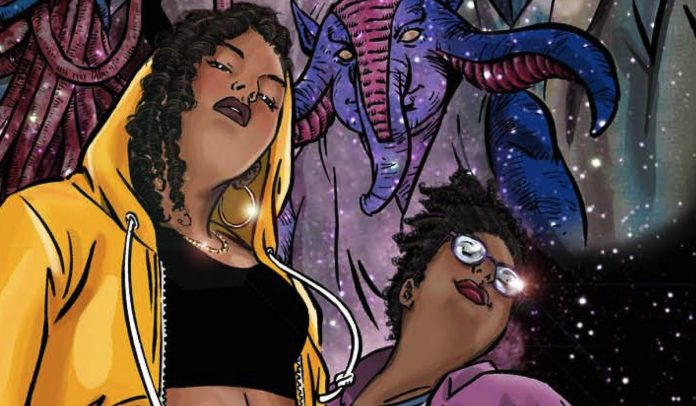 The conclusive chapter of Planet Divoc-91 will be released on Webtoon Canvas on Wednesday, May 5th, 2021, and you can get a first look today right here at The Beat, including the finale's cover by Alitha Martinez.
Planet Divoc-91 

Planet Divoc-91 was written by a team of more than 45 young people (aged 16 through 25) who live in India, South Africa, and the United Kingdom. Work on the project began in March 2020, as the world was plunged into lockdown as a result of the ongoing COVID-19 pandemic. The story follows two humans who are involuntarily relocated to an alien planet in order to avoid extinction – however, they soon discover that the alien planet is dealing with the outbreak of an infectious virus.
"This comic project started as a small idea, but as the collective of young people, artists, scientists and engagement practitioners grew, the power of everyone's enthusiasm turned this project into something that has given us all hope and comradery during some pretty bleak moments," writer and producer Sara Kenney said in a press release. "As we publish the final chapter as the title states this is 'The Place Where We Stop The Story', but the work continues and lifelong bonds and collaborations have been formed."
All nine chapters have a different creative team providing the art, and they are lettered by Hassan Otsmane-Elhaou.
Each of the chapters in the story has been accompanied by a series of articles, including essays from the writing team and interviews with public health officials conducted by young adults – think the Webtoon version of back matter. Topics covered include addressing the history of systemic inequality that leads to distrust in the system, particularly among people of color, as well as subjects such as the effect of the language used to describe the consequences of the pandemic. These prose segments are accompanied by additional illustrations throughout.
In addition to essays, there have also been a series of mixes released, one corresponding with each chapter. Plus, between chapters, bonus episodes give readers a look at the behind-the-scenes process of the art.
Furthermore, Kenney and Anita Shervington have worked closely with the young people who worked on the series to finalize a ten-point manifesto expressing their findings on the project, which will be released tomorrow, May 5th, on the Planet Divoc-91 website.
Are you heading to Planet Divoc-91?
Comics can be an invaluable tool in envisioning possible futures, and Planet Divoc-91 takes that philosophy to heart while simultaneously using speculative fiction to make sense of our current situation.
You can check out the press release below, and begin reading Planet Divoc-91 now, and catch up before the final chapter – which you can see a few panels from below – is released on Webtoon tomorrow.
Did you get a chance to check out Planet Divoc-91? Let The Beat know what you think in the comment section or on social media @comicsbeat!
An international COVID-19 inspired webcomic gets the attention of leading scientists and policy makers, who are now involving young people in their work.

 Featuring articles and Art by Young Adults in India, South Africa and the UK about COVID-19 and Stories by Acclaimed Comics Creators — including WALKING DEAD artist Charlie Adlard, Previous UK Comics Laureate Hannah Berry (Livestock), Karrie Fransman (Gender Swapped Fairytales), Anand RK (Grafity's Wall) and Bobby Joseph (Skank/ Scotland Yardie).

And Mixes from Producers Including Grandmixxer, LCY, Toya Delazy, Angel Ho and Arjun Vagale

The 9-part, Webcomic is on WEBTOON CAVAS and the final chapter is published on May 5th 2021.

Comic books might not be able to change the world – but perhaps sometimes they can nudge it in the right direction? Back in March 2020 an impressive roster of comic book creators collaborated on PLANET DIVOC-91, an ambitious webcomic, which debuted on WEBTOON CANVAS. The nine-part webcomic, which is funded by some of the most prestigious scientific organisations in the UK, is an allegorical sci-fi, which reflects on the experience of young people during the pandemic.

Over 45 young people (16-25) from South Africa, India and UK contributed to the project and eventually their journey led them to presenting to the UK's Independent Sage, contributing to Academy of Medical Sciences working groups and expert meetings, sharing their views with The Lancet briefing on adolescent wellbeing and climate change and even ending up on national breakfast TV in South Africa, The Expresso Show. They are continuing to build bridges with researchers and policy makers in South Africa, UK and India. See a clip of 17-year-old Alma from Manchester speaking in front of Independent Sage here: https://twitter.com/IndependentSage/status/1350151114356891649

In the series our doomed blue dot stands on the brink of destruction with a huge asteroid hurtling towards it. Our only chance of survival is on Planet Divoc-91, a giant 'safe house', full of Galaxian refugee waifs and strays. But that too is now threatened with a mysterious virus. Alone and terrified, our protagonist Sanda Oung a 23-year-old girl and Champo, her 19-year-old, non-binary sibling, are now far, far away from home. Stuck between a rock and hard place, they don't know it yet, but they are about to embark on a journey towards their true destiny.

Thrust into a testing alien landscape, which challenges them both physically and mentally, they battle hardship and isolation, as well as self-doubt and fear. As they attempt to integrate with locals and learn to survive, they also begin to ask bigger questions. Why are they really here? And what lengths do they need to go to survive and even thrive? Discovering a secret hospital overwhelmed with sick alien babies, they must draw on their inner resources as well as work with others to find out what's spreading this deadly illness – and what they can do to help stop it. Sanda transforms from a frightened conspiracy theorist into a confident young woman, eventually leading them to safety. That is until the world is turned upside down again…

The series features covers from all-star artists Elsa Charretier (NOVEMBER), Marco Finnegan (LIZARD IN A ZOOT SUIT), Leslie Hung (SNOTGIRL), Warwick Johnson-Cadwell (MR. HIGGINS COMES HOME), VV Glass (DR WHO), Matt Kindt (BANG!), Alitha Martinez (OMNI), and David Rubín (ETHER).

The young editorial team (many from marginalised groups living in Townships/ YMCA, disabled, neurodiverse, LGBTQIA+ etc.) exhibited a wisdom that experts were soon to realise could genuinely help them with their work. They have interviewed and shared their views with a range of experts from scientists to historians, journalists to anthropologists, and from that material created articles, art and videos in reaction to the interviews. Their first interviewee was Academy of Medical Sciences Fellow, Professor Sir Patrick Vallance, Chief Scientific Adviser to the Government of the United Kingdom. The team went on to speak with over 40 experts including Prof K. VijayRaghavan, Principal Scientific Adviser to the Government of India and renowned psychiatrist Dr John Parker, Lentegeur Psychiatric Hospital, South Africa. Over half the young people are also taking part in a mentoring scheme – matching them with creatives and scientists who can help them in their career.
Related