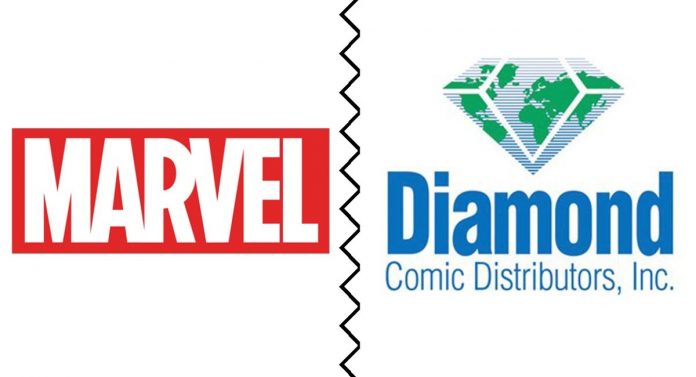 Well to say comics' hot stove league is blazing fiery red like an Icelandic volcano right now is an understatement. The move by Marvel Comics to Penguin Random House Publisher Services for distribution to the direct market is a huge breaking story, so expect lots of updates – and more on Diamond's reaction. But we're beginning to get some details – and tons of speculation.
But amid the chaos, a picture emerges. I've been told by sources at PRHPS that as they take on the task of distributing weekly periodicals – a new business model for them – they are ramping up resources to meet the needs of this specific market and its retail accounts, including opening a new distribution facility, located in Hampstead, Maryland, which will be devoted to servicing the Comics Direct Market accounts.
(In case you are wondering, Hampstead is about 17 miles away from Diamond's HQ in Cockeysville, MD.)
As they build out the supply chain for single issue comics, PRHPS is developing a portal for Direct Market accounts to view and order their comics, and "constructing a sales and shipping cycle that meets the unique needs of this channel."
I also asked about how Diamond's position as a wholesaler would work and was told that it's an additional option/choice for retailers to order their Marvel titles. It's similar to the way indie bookstores can choose to order direct from PRH or order from Ingram as a wholesaler. PRH supports both options. 

PRH is forming a new, dedicated Penguin Random House Direct Comic Market team. It will be headed by PRH Sales veteran
Tyne Hunter who has been promoted to Associate Director, Comic Market Sales, Penguin Random House. Hunter has already been working on helping prepare platforms, terms, and communications plans focused on the Direct Comic Market.
PRH has also sent out a very thorough FAQ to retailers, which I'll be summarizing below. But the overall message reassures the DM that PRH understands and respects them.
Penguin Random House aims to be the best distribution partner for the Direct Market. You are the epicenter for pop culture in your communities, and we want to better support all areas of your business. We will provide you with a top-notch supply chain, customer service support, and increase your access to our books, marketing & promotion campaigns, and publishers. The goal is to work together to grow your business and legacy.
Legacy!
Before we dive into the nitty gritty, some more bullet points of the biggest aspects of this – including some speculative analysis that everyone is talking about – clearly marked.
The discount for Marvel comics offered by Penguin Random House Publisher Services (PRHPS) will be 50%, which is less than the Diamond discount for larger stores, which were sometimes more than 55%. This is obviously a huge deal, however PRH also offers 100% free shipping. That is also huge. I'm told that for some stores the free shipping will offset the lower discount. Diamond also had a 3% restocking fee for graphic novels – many shops had already switched to traditional book distributors who ship reorders free, and this will gradually entice retailers to set up their accounts with PRHPS.
ANALYSIS: In other words, Diamond has its work cut out for it. Steve Geppi defended Diamond's shipping costs in his outreach last year, but it's going to be hard to justify now to stay competitive. As a wholesaler they won't be able to match even the 50% discount. Diamond still has Image, Dynamite and a whole lot of other periodical comics – Image publisher Eric Stephenson is now the Joe Manchin of comics –  and to survive they'll need to boost these indie publishers like crazy.
ANALYSIS: I'm seeing people speculate that some comics shops will stay with Diamond (as a wholesaler) rather than switch to PRH, because of inertia and loyalty.  Also, as noted just the other day by JHU Comics' Ron Hill, Diamond nurtured and helped out shop in innumerable ways, and had a passion for the industry that no gigantic corporation like PRH can match. I'm sure that it will be scary for some retailers to move away from their friends at Diamond. But see above. The numbers do not favor Diamond. PRH has scale, infrastructure and cash flow on their side – and have been successfully distributing graphic novels to many outlets for years. They may not be warm and fuzzy, but they understand the book business. CONSOLIDATION.
ANALYSIS: Also, don't forget – PRH is actually planning to buy Simon & Schuster which has been hoovering up tons of comics publishers for their book distribution to all channels. We could be looking at a whole new giant monolith here.
WILD SPECULATION:
DC does not have an exclusive distribution deal with Lunar…how long before PRH adds DC periodicals to its offerings? Once again, I'm told that PRH had been looking into distributing comics periodicals for a long time, and DC was part of those discussions. The groundwork has been laid.
Why is Marvel still with Hachette for bookstore distro? I've been told from multiple sources that this may be due to a deal that PRH and DC made when PRH started distributing DC books to bookstores way back in the aughts – PRH could distribute any publisher BUT Marvel.
This one is a bit in the weeds, but Marvel famously sells out of its graphic novel backstock very quickly – GNs related to WandaVision have been sold out for weeks and won't be available until April. This is due to a longstanding order by Marvel chairman Ike Perlmutter that Marvel cannot carry inventory – a policy particularly unsuited to the book market, since printing up huge runs of things you know will sell and having them available to send out on short notice is how you make even more money. Marvel has definitely improved in this area, but as the WandaVision example shows, there are still hitches. Diamond and Hachette couldn't do much to increase inventory, but with its huge resources (and new comic book warehouse facility) perhaps PRHPS can set up some kind of system to keep books in print through periods of hot demand. PRH is big on making distributing books as profitable as possible, so look for this to evolve as time passes.
Finally, Boom's retailer outreach lead Morgan Perry has a great Twitter thread for those who found all this tl;dr:
This is MAJOR. More-so than DC's switch to Lunar, imo. Key takeaways are:

Comic Shops can still order Marvel Periodicals through Diamond, who is now a wholesaler supplied by PRH

Marvel collections/GNs will still be available through Hatchett

Having additional distribution methods isn't a bad thing. Is it more work for comic shops? Yes. But independent bookstores have been working with multiple distributors for years. Having competition creates a need to develop better customer service practices, benefits, and terms.

This is going to change a lot things. How it changes them, we will have to wait and see. So free freight is on the table for retailers. What does this mean? Most comic shops will find this appealing as freight/shipping at other distributors has been a sticking point.  This could broaden the distro for periodicals to indie bookstores.

Also, please do not panic and freak out your LCS just yet. This new distro deal begins with October-Shipping books. There will be a lot of information for retailers to process in the next weeks/months as they potentially look into onboarding.
Once you get past the idea of retailer discomfort at new business workflow, and the problematic nature of big multinational corporations running everything (a big one, I know) here's the thing: this could mean MORE comics sold in MORE outlets. Everywhere that sells books deals with PRH. Marvel books and periodicals will eventually have more outlets to be seen in. That's why Marvel did this, in a nutshell.
Now some more information from the FAQ.
PRH will be setting up a self-service ordering website, self-service.BIZ, which will be expand to include direct market ordering practices, or through Customer Service. This portal will do a lot of heavy lifting, with updated product info, information on variants, FOC info, and everything else retailers are used to getting from Diamond. This will include info on promo items and variant covers, as well as DM retailer exclusive products.
This portal will expand to include the monthly catalog of all the upcoming comics, graphic novels, and manga that can be purchased through Penguin Random House.
The website and accompanying catalog will include information on new and upcoming titles, sneak peeks, a listing of top-selling titles, and more. As a retailer, you will also be able to preorder, reorder, and check the status of existing orders for comics, graphic novels, and manga from Penguin Random House.
After setting up an account with PRH, retailers will get set up with PRH account reps who will be able to help them with details of ordering.
While comics will ship primarily from the new warehouse in Hampstead, MD, other products may ship from other warehouses in Maryland and Indiana.
Mindful of the potential damages to fragile comics periodicals, PRH will not be shipping comics packaged with graphic novels.

The timeline for retailers is that they need to set up an account by May 7 in order to start ordering early shipping products, with May 26 as the order date for early solicited titles going on sale after October 1. Product that arrives to stores after October 1 will come from either PRH or a wholesaler.

PRH will continue to distribute the Marvel Previews catalog starting with the August catalog for product shipping in October – the catalog will arrive on July 28th. They'll also send out the weekly emailed Marvel Mailer which normally goes out to retailers on Thursdays.
As we noted in our story Tuesday, Diamond had a lot of tools that helped retailers populate their Shopify sites directly from Diamond information. With online sales portals so important to shops' bottom lines now, PRH will strive "to ensure that all retailers, data aggregators, and POS vendors have the title information they need to conduct business smoothly." This may be a little bumpy – expect retailer complaints.
PRH recognizes the importance of Free Comic Book Day "and will continue to support the publishers who want to participate in it." More details to come on that. Marvel will participate in FCBD 2021 via Diamond as planned.
Finally, PRH included a "sales pitch" of sorts in their FAQ which seems appropriate to quote, since it goes to the heart of their commitment to the DM:
ORDERING WITH PENGUIN RANDOM HOUSE
Penguin Random House aims to be the best distribution partner for the comic book market. You, as a comic book retailer, are the epicenter for pop culture in your community and PRH wants to better support all areas of your business. In addition to giving you access to an industry-leading supply chain and dedicated customer service support, PRH will increase your access to their books, publishers, and marketing and promotion campaigns.

PRH believes in the power of brick-and-mortar retailers and knows they are a vital part of a healthy retail ecosystem. At a time when many publishers divested their commitment to physical supply chain, PRH has doubled down on investment. There will be a designated warehouse for comic book distribution and new shipping cartons specifically designed for comic books. PRH is also creating an online retailer site with access to a monthly catalog of upcoming comics, graphic novels, and manga that can be purchased through the portal. The website and accompanying catalog will include information on new and upcoming features, sneak peeks, a listing of top-selling titles, and more.

PRH is committed to not just maintaining a presence in brick-and-mortar retailers, but to driving continued growth to your stores. The ongoing mission is to partner with you to grow your business and legacy.

When you open an account with Penguin Random House, you are getting:

Access to all Marvel comics and graphic novels
Free ground shipping on all outgoing orders
No opening order required—for a limited time only

Online ordering through a new and enhanced business website:

Improved search functionality—pull information by key words, title search, or identifier (ISBN, UPC)
Real-time stock availability
Ability to see and filter by all promotions you are eligible for, and add those promotions to your cart
Estimated arrival dates for orders, available at the title and order level
Enhanced tracking for orders by warehouse

A dedicated customer service rep assigned to your account
The most advanced supply chain in the book industry

Low reorder minimums and no reorder or restocking fees
Merchandising options, including displays and spinner racks that ship free when you order the fill

Access to more than 15,000 newly published titles annually across 70+ core publishers and imprints, and several dozen distributed publishers. Publishers served include:

DC Comics (graphic novels)

Random House Children's Books

Del Rey

Pantheon

Kodansha Comics

Vertical Comics

Square Enix

Seven Seas (as of July 1st, 2021)

Ten Speed Press
Okay, that's the facts for now! Look for more retailer and industry reaction in the days to come!
Related