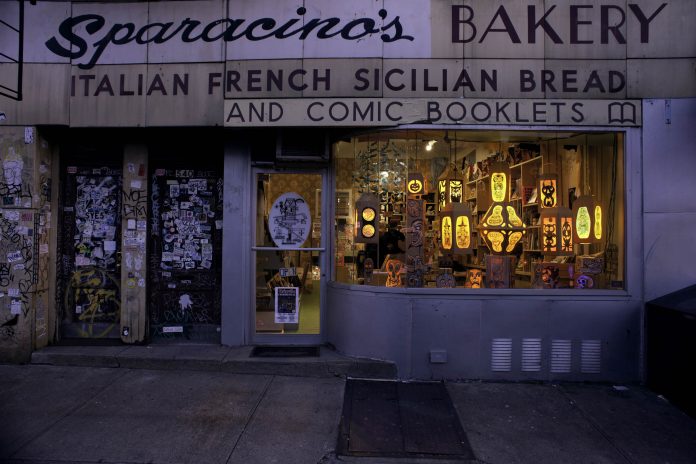 § Nice Art: Cartoonist/musician
Gary Leib passed away on March 19th at age 65. Lieb was best known in comics for
Idiotland, which he collaborated on with
Doug Allen, but he was also an accomplished musician, and worked in many media and was a huge talent. The Comics Journal has
a thorough obituary:
On the occasion of an exhibition of Leib's videos, drawings and ceramics works at the Brooks Gallery in West Virginia, curator Marian Hollinger commented, "Most children want to be one major 'thing,' when they are growing up: an artist, a cartoonist, a musician, a filmmaker. Gary Leib is fortunate enough to have done all of those things." Besides videos and ceramics, take a deep breath and skim through some of the other activities on Leib's resume: With Doug Allen, he wrote and drew the seven-issue Fantagraphics anthology series Idiotland (1993-94), which was nominated for a Harvey Award. He was a synth player for the alt-country band Rubber Rodeo (1980-1989), which was nominated for a Grammy Award. He researched and arranged music for the Oscar-nominated film Ironweed. He animated sequences in the film adaptation of Harvey Pekar's American Splendor, which won the Grand Jury Prize at the 2003 Sundance Film Festival. He has done comics and illustrations for The New Yorker, The New York Times, Musician, The New York Observer, RAW, Screw, Blab! and others and produced a regular comics feature for The New York Press. He created the animation studio Twinkle in 1993. He designed a promotional toy line for Hershey. He created the animated shorts "Coffee Nerves New York" (2002) and "The Unnatural History of Wall Street" (2008). He has taught animation at Manhattan's School of Visual Arts and Parsons School of Design and was 2011 Artist-in Residence at Fairmont State University in West Virginia.
Leib also did installations, including this Halloween-themed one at Williamsburg's Desert Island comic shop perhaps a decade ago. I witnessed it in person and had my own photos, but this particular photo above is one of my all time favorite images and served as my computer desktop for years. I love Halloween, and even while I'm sitting here grateful for Spring's arrival, I sometimes think of the snappy, brisk promise of Autumn. Every time I look at that photo and remember that installation, I'm filled with joy and happiness. Thank you, Gary.
§ As I mentioned in my story about the return to print of Milestone Comics yesterday, this was a move that retaielrs had been clamoring for, and group editor Chris Conroy backed up that theory with this tweet:
So! We heard you (especially you, retailers.) We're changing up the Milestone launch so that everybody can read them on the same day — in print, on digital, and on DC Universe Infinite! https://t.co/fhQxididaI

— Chris Conroy (@ConroyForReal) March 23, 2021
"So! We heard you (especially you, retailers.) We're changing up the Milestone launch so that everybody can read them on the same day — in print, on digital, and on DC Universe Infinite!"
The tradeoff for this change? You'll get your first look at STATIC #1 in June instead of April, in order to give retailers time to place orders. We know. That stinks a bit. BUT when you see the lineup of covers and little surprises we're lining up for this… you'll forgive us.
(And hey — if you were always planning to pick up STATIC #1 in print, you're actually getting it a month EARLIER now than you would have under the original plan. Can't be mad at that.)
§ Brigid Alverson looks at comics for young kids, like younger than middle grade, like readers 4-8, which is a growing category:
Within the past year, the number of graphic novels aimed at the youngest readers has increased sharply, including titles such as My Pencil and Me by Sara Varon (First Second); Donut Feed the Squirrels by Mika Song (RH Graphic); Pea, Bee & Jay by Brian "Smitty" Smith (HarperAlley); Baloney and Friends by Greg Pizzoli (Little, Brown); and Dewdrop by Katie O'Neill (Oni)—with more on the way. Established authors are getting into the act as well: Jonathan Stutzman and Heather Fox, creators of Llama Destroys the World, are launching a new series, Fitz and Cleo, this May at Henry Holt. Beak & Ally, which debuted from HarperAlley in January, is by Norm Feuti, author of The King of Kazoo. And the Baby-Sitters Little Sister graphic novels, launched last year by Scholastic Graphix, are already bestsellers.

Though many publishers prefer standalone graphic novels for early readers, others are bringing the graphic format to existing brands: HarperCollins's I Can Read Comics, Simon & Schuster's Little Simon Graphics and Ready-to-Read Graphics, and Holiday House's I Like to Read Comics will all launch in 2021. The educational publisher Capstone, which has published My First Graphic Novel books for more than a decade, added a second early readers line, Discover Graphics, earlier this year.
WHEW! Cannot keep up with all of this.
§ The appalling rise in violence against Asian-Americans has made the debut of The Good Asian by Pornsak Pichetshote and Alexandre Tefenkgi sadly timely is so many ways. As author Pichetshote tweeted:
A first advance review of my and @tefenkgi's new @imagecomics book THE GOOD ASIAN is up! And it's a relief. But I never thought I'd hope for the book to be less timely in the weeks and months to come # comics https://t.co/KK7i5xjMjc

— Pornsak Pichetshote (@real_pornsak) March 22, 2021
The book was already eagerly awaited as a hardboiled detective tale with a distinctive setting, but now it is so much more. Pichetshote also spoke about The Good Asian with Black Nerd Problems, specifically his research on the Asian experience in the 30s:

But after that it became this process. Reading up about Chinese Immigrants, the Chinese Exclusions Act, 1930 culture.

The biggest challenge of this book is that there's not a lot written about Chinatown in 1930. What I kinda had to do was Tetris information together, use different texts. It took a while to get the book going.

Normally, if I were to write a book, I'd read about it, feel comfortable being in that world, and then start plotting. But here I had to read multiple books and in my head, do the math and see how the stories overlapped and see what didn't make sense and kinda go from there.
Everyone can and should read The Good Asian on May 15th.
§ Here's a long piece on the hoped for return of live comic cons which looks at not only con runners but the many vendors who depended on these events for a living.
"We're 100% going to do it," Masters said, the owner of Newport Beach-based Toddland, which has been a fixture at comic conventions across Southern California for more than seven years. "We're stoked. By then, everyone in the office should be vaccinated, so we're 100% going to do it." This month marks the infamous one-year "Coronaversary" or anniversary of the coronavirus pandemic and subsequent government shutdowns.
§ And as more and more people get vaccinated, more events are being planned, like Day GA Com in Dayton, OH, planned for May:
Superheroes and villains, and a collection of other colorful characters, will be at the Dayton Community Center May 7-9 for the inaugural Day Ga Com, which the City of Dayton hopes to make an annual event. Day Ga Com is a pop culture extravaganza that combines a comic book convention, also known as a comic-con, and family-friendly board games, laser tag events, wrestling matches and food trucks. Event-goers who attend comic-cons are known for cosplay, which involves dressing up as their favorite cartoon hero or villain. During the event, fans of cosplay can enter costume competitions.
It's almost like…the before times.
§ Director James Gunn had a great thread on Twitter the other day that explained the secrets of the Groot language, kinda.
Can't recall. Might've been "go fuck yourself." Baby/kid Groot drops constant F-bombs. I do have a take where, after Groot says to Yondu "Welcome to the fucking Guardians of the Galaxy", Rocket, as they're flying away, says "Fuck this fuck that every other word fuck fuck fuck." https://t.co/R7s7wUlWmf

— James Gunn (@JamesGunn) March 22, 2021
Apparently, Gunn writes the actual dialog that Groot is saying in the script, and then voice actor Vin Diesel does his best to bring it to life:
Yes Vin has his own script with what Groot is saying. He works really hard at getting the meaning of each line as well as he can. https://t.co/6p3m851QN7

— James Gunn (@JamesGunn) March 22, 2021
But that "Dad!' line….oof.
§ Since everyone loves Zack Snyder again, here's a look back at the movie that really put him on the map, 300, the testosterone and green screen fueled adaptation of Frank Miller's ode to the Spartan life. Back when this came out young guys liked to dress up like Spartans to show how manly they were – there was no Twitter then, you see.
The film was also a spectacular display of dear, dear Gerard Butler's abs, as most of the cast wore only little red manties, a topic which The Beat of the day was much concerned with. And today, at age 51, Butler tells the Hollywood Reporter that getting in such great shape nearly ruined his body, recalling his first meeting with Snyder:
Says Butler, "I came in like a force of nature, but I was met with an equal force of nature, and the two of us came together like a whirlwind." Butler marched back and forth outside the Starbucks that day demonstrating what he thought "the Spartan walk" should look like. "And Zack's jumping up and down and going, 'Yeah! That's awesome!' We bonded from the start." The film, which drew its plot and striking visual style from the 1998 Frank Miller/Lynn Varley comics of the same name, required its cast of manly men to wear very little. "That was the best shape I have ever been in in my life," says Butler, who worked out six hours a day — two hours of CrossFit-style training, two hours bodybuilding and two hours on fight choreography. "In some ways I was ruining my body, but I was looking amazing doing it."
I actually asked Butler about this at a press event once – would he ever get in that kind of shape again? And he just said "I don't think I could." Thankfuly for Butler, his successful "[Various Things] Have Fallen" franchise requires him to wear concealingly rumpled yet rugged dadcore garb.
Related