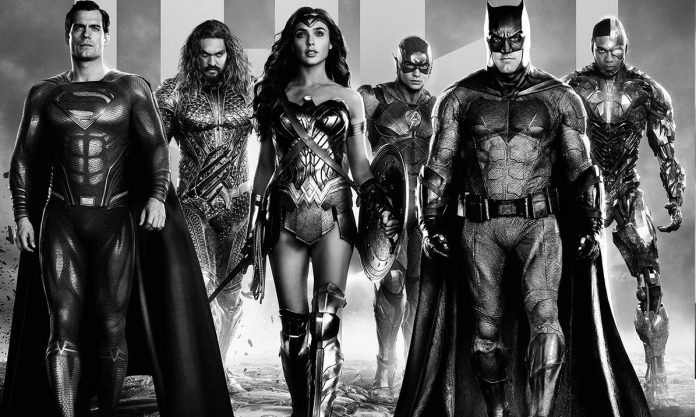 As we inch every closer to the long-awaited Zack Snyder's Justice League premiering on HBO Max this Thursday, expect promotion to kick into high gear. After releasing the final trailer yesterday featuring tons of new footage, early reviews and reactions are slowly trickling in.
Currently on Rotten Tomatoes, Zack Snyder's Justice League ranks 77% significantly higher than the 40% the original 2017 version ranked. The consensus seems to be that it's Zack Snyder's version is a vast improvement to the one we got when Joss Whedon took over, though in all honesty that's a fairly low bar.
Zack Snyder's Justice League is a rollercoaster of emotions.

A story about being united, and helping one another reach their potential. Each hero shines throughout. A perfect balance of heart and humor.

The universe built in the film has you wanting more.@snydercut#SnyderCut pic.twitter.com/Q366CqjRdC

— Ω meg Ω (@wondermeg_) March 14, 2021
Zack Snyder's Justice League is my new favorite comic book movie. It's the perfect follow up to Batman v Superman, and a terrific conclusion (for now) to Zack's arc. While there were a few weak points, they were outweighed by the story and chemistry of the cast. Full review soon. pic.twitter.com/kcuegjjizy

— Thomas Polito (@PolitoThomas) March 15, 2021
ZACK SNYDER'S JUSTICE LEAGUE is the first film to prove the notion of superheroes as the modern myth. A towering achievement in comic book adaptation that cares as deeply about its characters and its themes as much as its epic-scale spectacle. Better than we could have imagined. pic.twitter.com/tmdYoHvNRK

— James Preston Poole (@JamesPPoole) March 15, 2021
Zack Snyder's Justice League. Beautiful, bold, patient, and so determined to give dignity to every bit of its story and characters, it's guaranteed to inspire the future of fantasy blockbusters.

In other words, everything Man of Steel and BvS fans knew this was building towards. pic.twitter.com/hIHUKulASM

— Andrew Dyce (@andrewbdyce) March 14, 2021
Every single thing about Zack Snyder's Justice League is better than the theatrical cut. pic.twitter.com/lRX2O9AOeI

— Sean Chandler (@kirkneverdied) March 14, 2021
While the majority of praise seems to come from fans who have been campaigning for #ReleaseTheSnyderCut for the last few years, critics are much more lukewarm towards the film.
Zack Snyder's #JusticeLeague is neither the savior nor the destroyer of cinema that many viewers and critics will most likely hail it as in the coming days (and weeks and years). Instead, it's exactly as advertised: https://t.co/lMHYUHBxPF #SnyderCut pic.twitter.com/h692GmkCV7

— Decider (@decider) March 15, 2021
Zack Snyder's Justice League is relentlessly boring and endlessly long. If you've ever been brave enough to ask the question "is it possible for a superhero movie to feel like watching paint dry?" This one's for you.

Our review: https://t.co/m6pUNkcUw9 pic.twitter.com/sBZmgTfTIF

— GameSpot (@GameSpot) March 15, 2021
'Zack Snyder's Justice League' is just another bad 'Justice League.'​ https://t.co/owukkTVZ2z

— Entertainment Weekly (@EW) March 15, 2021
Nevertheless, critics do seem to commend the unprecedented and historic achievement for Snyder in being able to bring his original vision to life given the unique and unusual circumstances.
This film "has achieved a historic victory for artistic integrity" – and is groundbreaking for other reasons as well, writes @SherazFarooqi_ of #ZackSnydersJusticeLeague https://t.co/QlRqapsdiq

— CNN Opinion (@CNNOpinion) March 15, 2021
Note: You can subscribe to HBO Max at this link. Disclosure: This is an affiliate link and The Beat may receive a small commissions if you subscribe.
Keep your eyes peeled this week for The Beat's review of the film. Zack Snyder's Justice League premieres on HBO Max on March 18th.
In Zack Snyder's Justice League, determined to ensure Superman's (Henry Cavill) ultimate sacrifice was not in vain, Bruce Wayne (Ben Affleck) aligns forces with Diana Prince (Gal Gadot) with plans to recruit a team of metahumans to protect the world from an approaching threat of catastrophic proportions. The task proves more difficult than Bruce imagined, as each of the recruits must face the demons of their own pasts to transcend that which has held them back, allowing them to come together, finally forming an unprecedented league of heroes. Now united, Batman (Affleck), Wonder Woman (Gadot), Aquaman (Jason Momoa), Cyborg (Ray Fisher), and The Flash (Ezra Miller) may be too late to save the planet from Steppenwolf, DeSaad, and Darkseid and their dreadful intentions.
Related