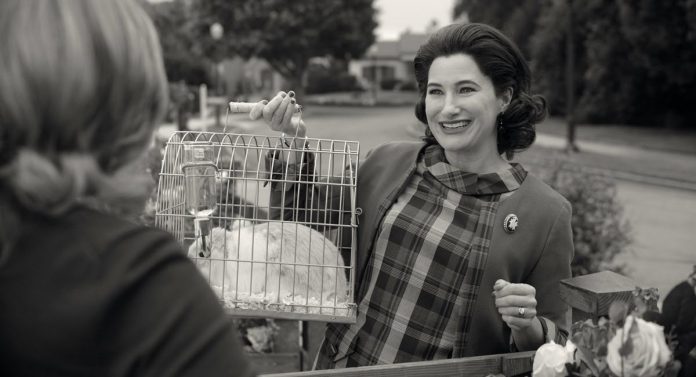 (The following contains spoilers for the seventh episode of WandaVision, "Breaking the Fourth Wall.")

Viewers of WandaVision were gifted with a new earworm on Friday courtesy of actress Kathryn Hahn. No, not the episode's main title theme, a The Office-esque ditty that set the tone well for the episode's faux documentary style sitom send-up. No, I'm talking about the song that came at the end of the episode, following the reveal of the series's apparent big bad, Agatha Harkness, the true identity for Hahn's Agnes. If you haven't heard it, or if you just want to hear it again, here it is:
It was her all along 🐇 The seventh episode of Marvel Studios' #WandaVision is now streaming on #DisneyPlus. pic.twitter.com/ThCKlYCfeR

— Marvel Entertainment (@Marvel) February 22, 2021
As someone with a fond spot in his heart for the '60s camp of The Munsters, this song literally hits all the right notes.
Now Marvel has released a dive into all of the various theme songs created for WandaVision by the award-winning duo of Robert Lopez and Kristen Anderson-Lopez, the team behind the music of Frozen (and the upcoming musical adaptation of Jen Wang's The Prince and the Dressmaker). The whole article is interesting, and regarding the most recent song the team reveals that it was in fact Hahn herself who provided the female vocals for "It Was Agatha All Along":
Lopez: That's the one that Kristen's not on. I'm in the group of guys, the backup guys. But Kathryn [Hahn] takes the lead on that one. She was amazing.

[…]

Lopez: Kathryn is a musical theater star. Kristen's sister also works with her on Central Park, where she's a main singing character. And we know, because of that, how amazing her voice is.
Anderson-Lopez: And she's such a great sport. Just the half hour— wasn't it a half hour that we worked with her, really? After that, I was like, we need to work with her again. Because she was just game [for anything], and she was like, [imitates witch] ha, ha, ha.
Kathryn Hahn has been stealing scenes as Agnes since the first episode of WandaVision, and while her true identity as Agatha Harkness was one that many people speculated about even going back to the first trailer for the series, the reveal was no less satisfying. Plus we got an extremely catchy song out of it — what more could you want?
How about a fantastic remix from Chicago-based hiphop artist Leland Philpot?
AGATHA ALL ALONG TRAP/HIPHOP REMIX by Leland Philpot 😏

YOU HEARD IT HERE FIRST!#BabelScatter #WandaVision #Comics #Anime pic.twitter.com/b6hrTyUydy

— Leland Philpot. (@lelandphilpot) February 21, 2021
Will Kathryn Hahn get to sing future WandaVision tunes? We've only got two episodes left to find out. The penultimate episode of the series debuts this Friday, February 26th.
Related